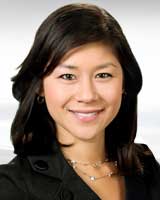 Jessica Peres joined Action News as the South Valley Bureau Reporter in July of 2006. She comes here from New Jersey where she worked as a General Assignment Reporter/Anchor at WZBN-TV.

Jessica began her television career interning for MTV Networks at Nickelodeon. While in school she worked for WCVB-TV, the ABC-affiliate in Boston, MA. While at WCVB, Jessica produced two segments for the show Cityline, a weekly magazine show about people of color in the Boston area. She went on to work at NBC10 News in Philadelphia (WCAU) as a production assistant where she grew her passion for news. She landed her first reporting job at WZBN a year later.

During her time at ABC30, Jessica has traveled to Southern California to cover numerous wildfires, flew to Washington, D.C. as local officials sought federal funding relief from the 2007 Citrus Freeze and went to Los Angeles to report on the investigation into Michael Jackson's death. She's covered the tragic murder of Tulare County Sheriff's detective Kent Haws, same-sex marriage debates and controversy, every World Ag Expo, 2010 record rainfall in Tulare County and the Taft High School shooting. Jessica also exclusively interviewed Alex Salinas, the Exeter police officer who went under cover for 8 months at Exeter High School to take down student drug dealers.

Jessica was born and raised in Princeton, New Jersey. She graduated from Brandeis University with a B.A. in Music. Jessica feels privileged to report the news and tell the stories important to South Valley residents. She lives in Visalia with her husband, two little boys and two dogs. When she has spare time she loves singing karaoke, playing piano, running and spending time with friends.
---