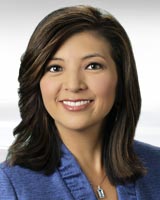 Margot Kim joined the ABC 30 Action News Team in October 2004 and is the co-anchor of Action News AM Live.

In 2006 she was awarded a regional Emmy Award for Outstanding Achievement, Anchor in a Daytime Newscast. With over ten years of broadcasting experience in various television markets, she is thrilled to return to her hometown of Fresno.

After graduating from Clovis West High School, Margot went on to earn a B.A. degree in Sociology at the University of California, Irvine.

Shortly thereafter, Margot started in television news at KIMT-TV in Mason City, Iowa where she went from reporter to primary anchor.

At WCMH-TV in Columbus, Ohio, Margot co-anchored the weekend morning newscasts before being promoted to weekday morning and noon co-anchor.

Then in 1998, Margot landed a job at KIRO-TV in Seattle, Washington, working as a reporter, then weekend anchor and weekday morning anchor.

While in Seattle, Margot covered major stories such as the World Trade Organization riots and the conviction of Green River killer Gary Ridgway.

She earned a Best of the West Award and was nominated for a regional Emmy Award for reporting.

Now, Margot feels fortunate to be able to use her skills and experience to serve Valley viewers.

In her spare time, Margot enjoys spending time with her husband and two children and is especially excited she now has free babysitting from her parents and in-laws.
---