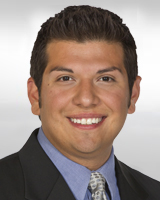 Rick Montanez joined the ABC 30 Action News team in February 2011. Rick began his career working for ABC 30's sister station, KABC-TV in Los Angeles. Now, after a few years outside of California, he's happy to come full circle and work for ABC once again.

Rick has covered a wide range of stories during his career. Most recently, Rick spent considerable time covering homelessness in southern Colorado. This included experiencing what it would be like to live in the so-called 'tent cities' of Colorado Springs. Rick has also covered major wild fires, one in particular threatened the Idaho National Laboratory.

Rick comes to the Central Valley from Colorado Springs, CO where he was a reporter for KKTV. While in Colorado, Rick and his co-workers were honored by being named the Colorado Broadcasters' Association Station of the Year for 2009 and 2010. Before Colorado, he worked for KIDK-TV in Idaho Falls, ID where he served as an anchor, weathercaster, reporter and producer.

Rick is grateful for the chance to come back to the Central Valley since he has a lot of family living in the area. He's also an avid social media user, so feel free to contact him on facebook or twitter.

Rick lives in Fresno with his wife, Christa and their two daughters.
---