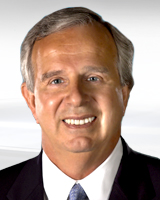 Tony Capozzi has been the exclusive legal and political consultant for KFSN-TV since 2005. He was elected President of The State Bar of California, with a membership of 205,000 attorneys for the 2003-2004 term. In 1999, he served as President of the Fresno County Bar Association and the San Joaquin Chapter of the Federal Bar Association.

Originally from Buffalo, New York, Tony obtained his Bachelor of Arts degree from the State University of New York at Buffalo and his Juris Doctorate from the University of Toledo, College of Law.

He began his legal career as a law clerk to a United States District Court Judge in the Southern District of Illinois and then served six years in the United States Attorney's Office in Fresno California. Tony then entered private practice and has earned the highest rating (AV) from Martindale-Hubbell, a highly respected national rating company. Tony was recently elected as a Fellow of the American Board of Criminal Lawyers.

In politics, he was a delegate for President, Jimmy Carter at the 1980 Democratic National Convention in New York City and an alternate delegate to the 1984 Democratic National Convention for Walter Mondale. Tony was on the National Democratic Finance Committee in 1980 and worked for the Democratic National Committee in 1984 traveling throughout the western United States for the Mondale-Ferraro Campaign. Since then, Tony has worked on a number of Federal, State and Local campaigns.

Tony was recently appointed to the Judicial Council of California, the policy making body of the California Courts, the largest system in the nation under the leadership of the Chief Justice of California. He was also appointed as a state-wide co-chair of the Bench-Bar Coalition of the Judiciary and the Bar which was formed to enhance communication and coordinate the activities of the judicial community along with the Bar on issues of common interest, particularly in the legislative area.