For Potatoes:
2 Russet Potatoes
1/4 cup heavy cream
1/2 cup Shredded Dubliner (or Sharp Cheddar)
2 TB butter, sliced
3/4 tsp Kosher Salt
1/4 tsp Black Pepper
For the Meat Filling:
1.5 lbs. Ground lamb (Can substitute Ground Beef)
1 cup Diced Onion
2 Cloves of Garlic, minced
2 Tb. Flour
1 tsp Salt
1/2 tsp Pepper
4 TB. Tomato Paste
1 tsp Worcestershire Sauce
1 cup Chicken Broth
Option to add 1 cup peas & carrots (frozen is okay)
Parmesan Cheese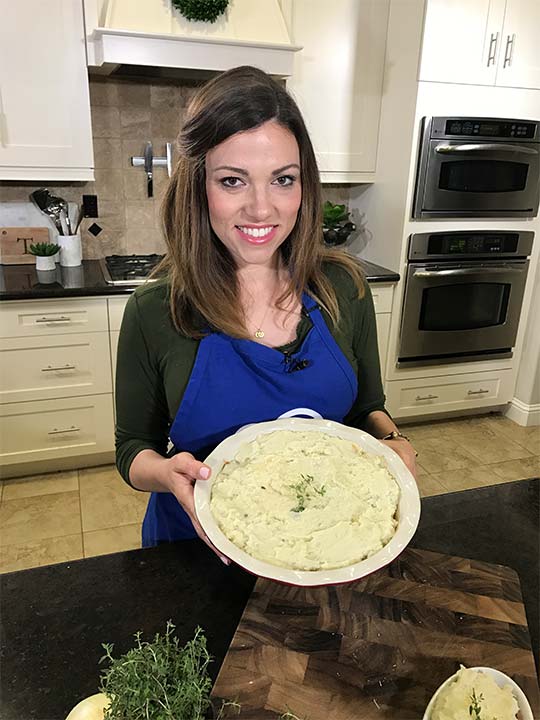 Directions:
Peel potatoes and cut into 1/2 in cubes. Place in medium saucepan and cover with water- bring to a boil over high heat. Once boiling, decrease the heat and simmer for 10-15 or until tender to the fork. Drain the potatoes and add in Cream, butter, S & P- Mash until smooth. Fold in the cheese and set aside.


Preheat the oven to 375 degrees. While the Potatoes are cooking, prepare the filling. With 2 Tb of Olive saute the Onion for approximately 4 minutes, add in the garlic for 2 minutes. Add the Lamb, S&P and cooked until browned throughout. Sprinkle the meat with flour and stir until mixed in. Add in the tomato paste and Worcestershire sauce, stir until combined. Add in the Chicken Broth and bring to a boil, once boiling reduce the heat allow to simmer for approx. 10-12 minutes until thickened slightly. Remove from heat (add peas and carrots if desired).


Fill a prepared baking dish with the Lamb (or beef) mixture. Spread the potato over the lamb and press down lightly. Sprinkle on Grated Parmesan cheese.


Bake at 375 for 20-25 minutes until golden brown. Garnish with sliced green onions or fresh Thyme.