Brought to you by Fresno Heart & Surgical Hospital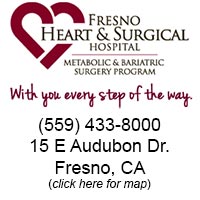 Your path to health and happiness begins here.
As one of the most experienced weight-loss surgery programs in the country, the metabolic and bariatric surgery team at Fresno Heart & Surgical Hospital is ready to guide you on the path to health and happiness.
Our team of surgeons, nurses, and life coaches are eager to help you through a personalized weight-loss program with long-term results. We've helped thousands of people reverse obesity with the assistance of LAP-BAND, Gastric Bypass, Sleeve Gastrectomy and Revision Weight-Loss Surgery procedures.
Steps tailored specifically for a healthier you
Excess weight can contribute to conditions such as heart disease, Type 2 diabetes, sleep apnea, and high blood pressure. We believe that many health problems can be corrected -- and even reversed --with the proper weight-loss surgery treatment.
We also believe that each person's needs are different. So we'll help you choose the steps that are right for you - helping you select your best options from many advanced bariatric procedures and post-op programs.
A step above
On both the state and national levels, we are a step above most other weight-loss surgery programs. Our superb clinical outcomes have earned HealthGrades' five-star ratings and a Bariatric Excellence Award five years in a row (2009-2013), putting our program in the top five of all California hospitals.
Our world-class bariatric surgeons are board-certified in general surgery by the American Board of Surgery and are members of the American College of Surgeons.
For more information visit www.thistimewillbedifferent.org