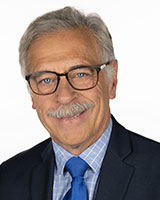 Gene joined Action News in 1991 and has served in a variety of positions including: Weekend Anchor, Bureau Chief and Government Reporter.

He covers all kinds of stories on a daily basis. But his favorites are those dealing with the environment, local history, and the unique people and places in and around the Central Valley.

Recent environmental stories include the proposal to remove the dam in Yosemite's Hetch-Hetchy Valley, the debate over restoration of the San Joaquin River and the contamination threat still posed by the 150 year old mercury mine at New Idria.

Historical pieces include a look at how the "Mussel Slough Massacre" (a shootout that occurred more than a century ago) helped set the stage for the recall that put Arnold Schwarzenegger into office. Another story, "The Forgotten Cemetery" examined the history of Chinese immigration to Fresno. A visit to "Bodie" took viewers inside the closed doors of the wildest ghost town in the West.

Some stories about offbeat places included a tour of downtown Fresno's "Hidden Mysteries," and "The Worlds Largest Junk Yard," a behind the scenes look at the workings of Turners Auto Wrecking .

Gene has profiled some of the regions most unusual celebrities, like Richard Kiel, aka "Jaws" of James Bond fame, and Ed Cassidy, of Spirit, who's now considered "The Worlds Oldest Rock and Roll Drummer."

Before coming to Fresno, Gene worked as a News Director and Anchor at TV stations in Lewiston, Idaho; Idaho Falls, Idaho and Cheyenne, Wyoming.

His broadcasting career started in radio. He learned the basics while a member of his high school radio broadcasting club in Boulder, Colorado. His first job was as an all night Country DJ and part-time Reporter at a radio station in Fairbanks, Alaska. He worked summers there, while majoring in Journalism at the University of Northern Colorado, He went on to work at other radio stations in Colorado, and Wyoming before getting into television.

One of his favorite jobs outside of broadcasting was peddling tourists in a bicycle rickshaw along Waikiki Beach.

Ask Gene where he's from and it's hard to get an answer. Born at Spirit Lake, Idaho, he grew up in Seattle, Los Angeles, Las Vegas and Boulder.

Gene and his wife live in Clovis. They have three grown children, and a grand-child.
---