Haga clic aquí para ver la versión en español de este artículo
Spanish-speaking families impacted by Alzheimer's Disease or other dementias have an opportunity to connect with experts and resources in their own language. According to the California Department of Public Health, Alzheimer's Disease is now the third leading cause of death in California. Alzheimer's is a type of dementia that causes problems with memory, thinking and behavior. Experts with the Alzheimer's Association say Latinos are 1.5 times more likely than whites to have Alzheimer's or another dementia.
June is Alzheimer's Awareness Month. ABC30 is teaming up with local organizations and raising awareness about the Central Valley Alzheimer's Caregiver and Wellness Conference in Spanish. The free event is from 8 am to Noon on Saturday, June 1st at UCSF Fresno, 155 N Fresno St, Fresno CA 93701. ABC30 anchor Graciela Moreno and Univision 21 host Lupita Lomeli are co-emceeing this free event in spanish. Register by calling Susan Rodriguez with the Valley Caregiver Resource Center (559) 224-9154 or email her at
srodriguez@valleycrc.org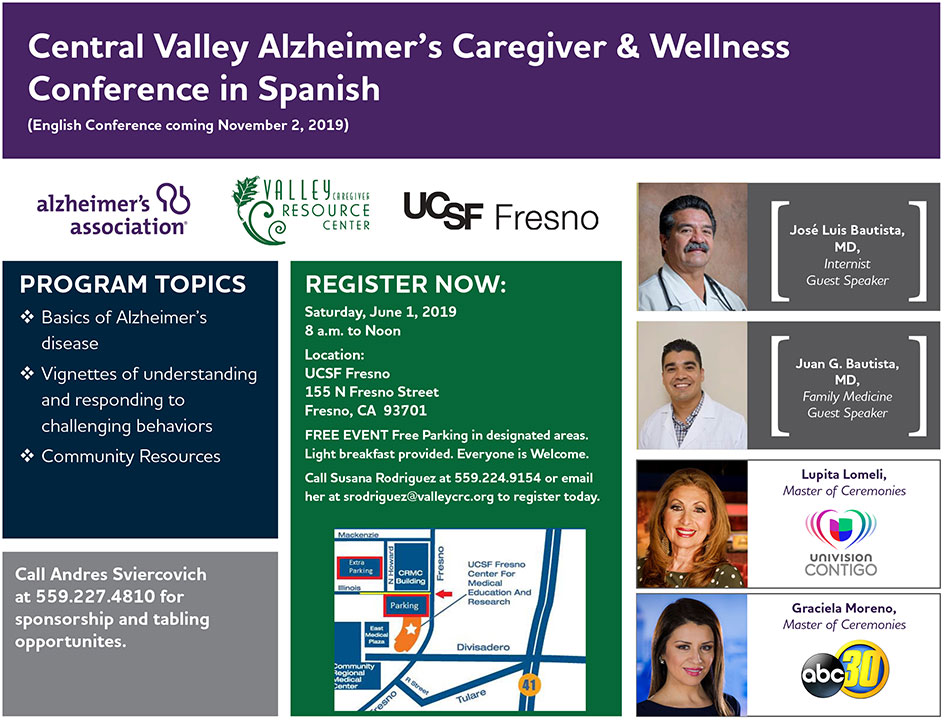 Facts about Latinos and Alzheimer's Disease
Facts about the impact of Alzheimer's Disease
In 2016, more than 15 million family members and friends provided 18.2 billion hours of unpaid care to people with Alzheimer's and other dementias, at an economic value of over $230 billion.
Of the unpaid Alzheimer's and dementia caregivers, 69 percent have provided care for at least the past year, and more than 39 percent have been providing care for four or more years.
Nearly one-fourth of Alzheimer's and dementia caregivers are "sandwich generation" caregivers - caring for both someone with the disease and a child or grandchild.
Source:
Alzheimer's Association