FRESNO, Calif. (KFSN) -- The woman caught on camera beating and forcing another woman to strip naked in Central Fresno has been arrested. Police arrested Destiny Rico, also known as "Baby Dreamer" Wednesday.
She was found at the same apartment complex where she was right before the incident took place. When officers arrived, Rico ran out of the back of the apartment and tried to enter another residence. But police were able to take her into custody.
Click here to watch video report
"This last arrest is the culmination of a series of multiple weeks of investigating, multiple persons with respect to this specific gang were arrested, not even necessarily connected to the case. As the Chief said prompt and swift justice in this case.," said Sgt. Paul Cervantez, Fresno Police Department.
Police also arrested another man on unrelated charges. Investigators plan to charge the woman whose apartment they went into, for helping hide Rico.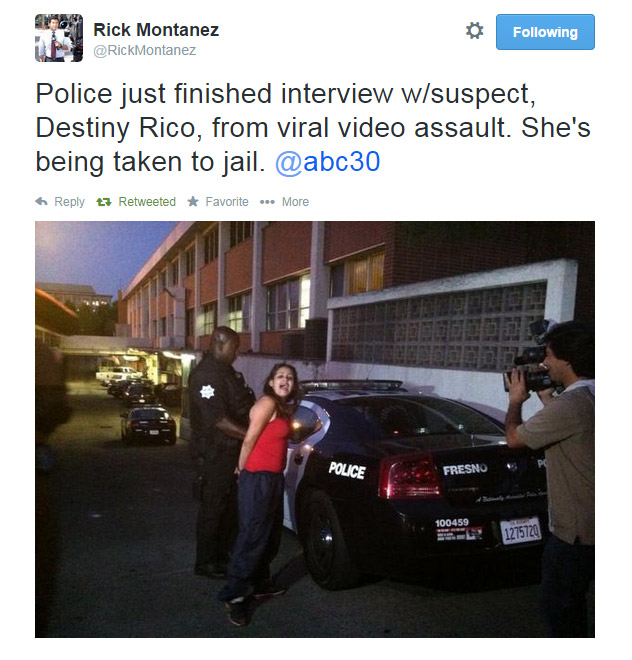 The Fresno Police Department released the following statement to Action News:
On 9/24/14 at approximately 3:30 in the afternoon, FPD received a crime stoppers tip regarding the whereabouts of Destiny Rico aka Baby Dreamer. The anonymous caller provided an address to us in Northwest Fresno. Ironically, this was the same apartment where Rico was moments before the original incident posted to Facebook on 9/6/14. MAGEC Investigations team responded to this apartment and set up along with CHP air support (H40). Once officers knocked on Jaime Camarilo's apartment two subjects, including Destiny Rico ran out of the back of the apartment and tried to enter into an adjacent apartment through a sliding glass door. They were immediately apprehended without further incident. Aside from Rico, Phillip Listman, was the other subject who ran out of the back apartment and detained. He was later determined to have several outstanding felony warrants for his arrest.
Jaime Camarilo's apartment was searched when we executed a series of search warrants related to this investigation on 9/10/14. She was advised that Rico was wanted and as a result Camarilo was arrested for harboring a felon as well a probation violation. Detectives are currently interviewing Rico at Fresno PD HQ and she will be booked for a variety of offenses to include robbery, gang enhancements and resisting arrest.