NEW YORK -- Chris Harrison started the week off by telling the remaining women that they would be heading to Las Vegas! Ben arrived in a convertible to meet the 14 women on the Vegas Strip outside the Aria where they got a special light up message from Ben. Ok, they seem a little crazy cheering at that right? It's just a sign, to 14 people, not one. Like clockwork, the first date card arrived. It read, "Jojo, you set my heart on fire." Jojo was extremely excited that she received a one-on-one, while Olivia maintained that he is "hers".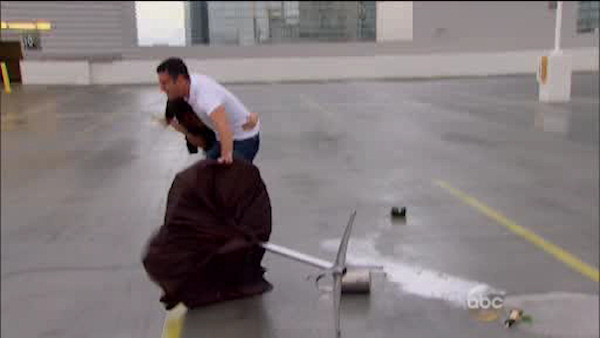 Ben arrived at the ladies' hotel room to pick up Jojo for their date and Olivia continued to talk about how she feels so good about what they have. Jojo and Ben shared a glass of champagne in the middle of a large parking lot as a helicopter landed. Great idea producers! The table and glasses flew at them and the glasses shattered all over the ground! Yikes! Then, Ben gave her a huge kiss as the other women looked on from the hotel room window. Olivia was horrified. She is finally just realizing that she has some real competition and she's not ok with that.
Back at the hotel, a group date card arrived and it was for everyone except for Becca, meaning she's getting the next one-on-one date! Olivia is so upset that she's in the group. The card read, "Show me what you got!"
Later that evening, Ben and Becca headed to dinner where they talked about how nervous they were to go on the date and how excited they are around each other. Ben said that he feels very attracted to her and has several "moments" with her that he wanted to let her know about. She revealed that she ended her last relationship five months ago, and apparently she got cheated on. Ben said he felt bad that she went through that and he just doesn't want her past experience to keep her from holding back. They did a lot of kissing! Then, he gave her the date rose which she happily accepted! Ben says that he's falling for her. Ben took her up to the roof where they watched some fireworks. The twins were really jealous as they are from Vegas and they've never done that before and they live there! Olivia was fully aware that they were probably making out and watching fireworks. She was upset that she had to see the fireworks.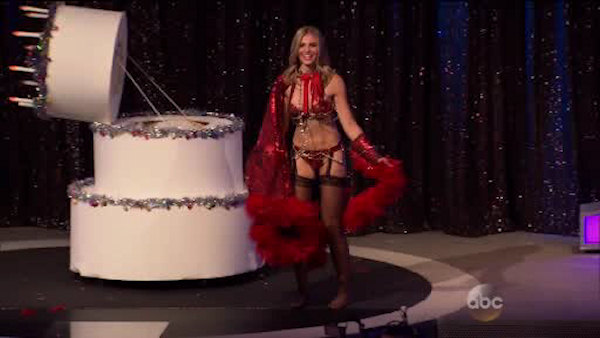 The group of women visited the Terry Fator Theater in where they were going to do a talent competition in front of a real audience. Terry Fator welcomed them and helped them come up with some acts thanks to some props. Ben also made the rounds and helped the ladies come up with some ideas. The ladies were hilarious; they felt as though Olivia had a secret talent she was hiding from all of them, even Ben. Well the twins did some amazing Irish dancing! Jubilee played the cello, there was a Hawaiian dancer, juggler, one sang as a chicken and another girl rode a pogo stick. Olivia came out on stage in a giant birthday cake and danced around in some lingerie in a goofy way. It was actually pretty embarrassing, but hey, she has a great body and maybe if she had done it in a more sexy way and not in such a joking way it would have gone over better? Let's give the girl credit; it's never easy to go in front of a crowd. Even Fator's puppet made fun of her and said, "What part of talent didn't you understand?" Backstage the women said "cheers" to a job well done, but Olivia had a panic attack and nearly died of embarrassment. She said that looking at Ben's face, he looked embarrassed, and she also thought that her act "didn't scream marriage material".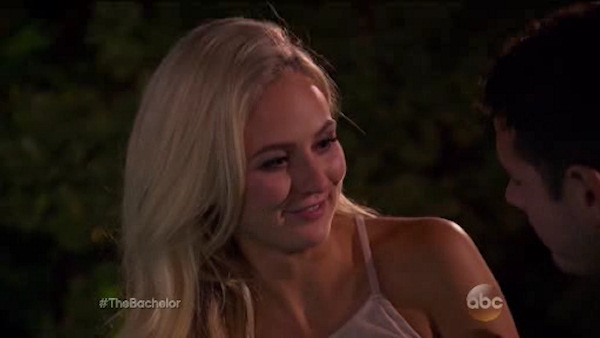 Later, they sat by a pool and had a cocktail party where Ben told him that they all did a great job and he appreciated everything they did. Caila stole Ben away first and without really saying much she jumped all over Ben and he described her as a "sex panther". Wow! Lauren H. and Ben had a funny talk with the puppet that she even kissed (who knows where that puppet's lips have been ha!) and Ben used that opportunity to give her a real kiss, sans puppet. Olivia at last pulled Ben away, and he told her that she did great and it was funny, and Olivia said that she thought she did terrible. He said, "What are you talking about, today was great." She told him she did that and was very embarrassed by it. Ben told her that she shouldn't be embarrassed, as he was starring in her eyes; one of the twins came up and stole him away. Lauren B. and Ben had a romantic conversation where they talked about how they just want to be around each other all the time. As one of the twins was talking to Ben, Olivia butted in again! Ben said, "Sorry, I don't know what's going on." Olivia told him that she wanted to start over and he said, "What is going on right now?!" He told her to stop worrying and sealed it with a kiss. Ben sat down and picked up the group date rose, he decided to give it to Lauren B! That was a huge smack in the face to Olivia!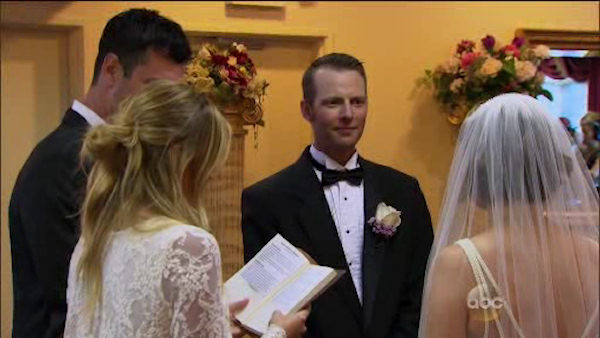 A giant box arrived back at the hotel for Becca! A card read, "Get dressed, it's a big day." Inside was a wedding gown! She ran off and put it on and Becca makes a beautiful bride! Ben met up with Becca dressed up in a tux and he got down on one knee and he asked Becca if she would "Marry other people" with him that day! They got ordained and they were performing real weddings in a little Vegas chapel! Becca changed in to a kind of unflattering flowy lace dress (I liked the wedding dress better) and they stood at the front waiting for their couple to arrive. The bride and groom came in and they did a great job! The couple actually got married and they seem like a sweet couple.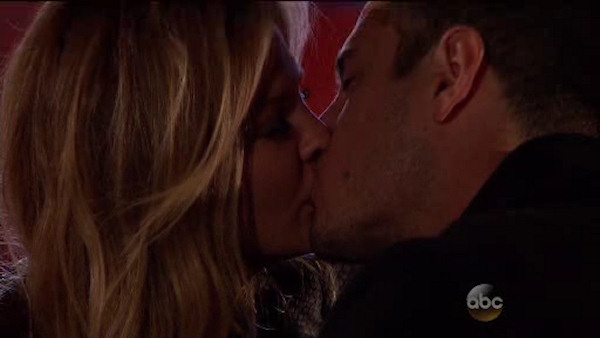 Later they went to a neon sign museum and saw some classics. It was very cool to walk through and seemed like an awesome date! They very sweetly made their own vows for each other, as they were inspired by the couple that they married earlier that day. With that, he offered her the rose and she said, "I'd be the biggest idiot not to accept this rose." Um, ok, that's not a very romantic thing to say. But, Ben didn't seem to mind and they kissed into the night.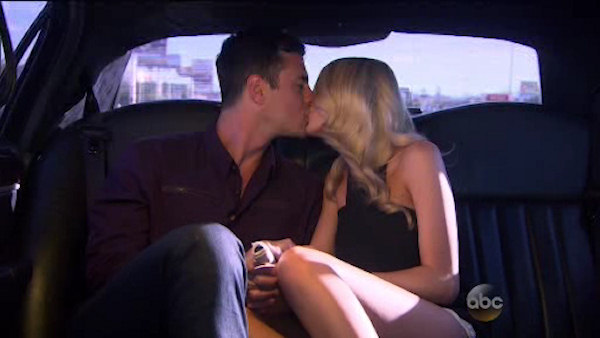 Ben decided to take the twins out on a two-on-one date to have an "early hometown" date! They went and visited the twins' mother. They also had four super cute dogs greeting them! They have a beautiful home and Haley showed him around first and tried to hide all of the pictures of her ex-boyfriend. He also had a nice time talking to Emily too, but ultimately he decided he had to leave Haley home. The girls are so sweet, they both cried; One because she got let go, and the other because she hates to see her sister hurting. Ben said he was glad that he was leaving her there with her mom to comfort her.
Ben and Olivia had the same conversation they already had a million times during the cocktail party. But wait, she upped the ante! She told Ben that she was "falling for him!" Oh my goodness, it's a little soon. We'll see if this scares Ben off or not. Olivia told Jojo and she was shocked because she says she's not quite there yet, although she feels very passionate for Ben. Ben basically spent the next couple hours going around and talking and kissing several of the ladies. He also seemed a little drunk to me, he told Jubilee that she seemed scared to death and then said he couldn't believe that after serving our country that she feels insecure.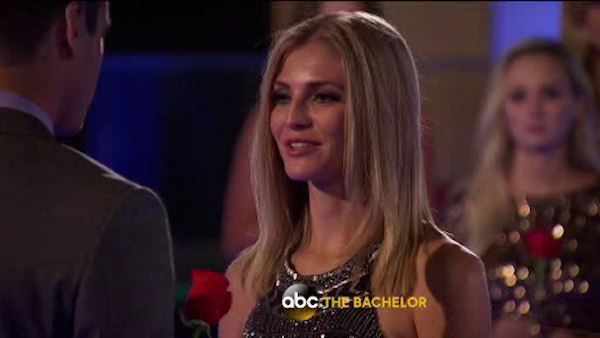 Then it was time for the rose ceremony. Joining Jojo, Becca, and Lauren B. with roses were:
1) Amanda
2) Lauren H.
3) Jubilee
4) Emily
5) Caila
6) Jennifer
7) Leah
8) Olivia
And Olivia is in by the skin of her teeth! She flashed him this creepy huge smile, not knowing if he would pick her or not. Her method apparently worked. Amber, Rachel, and earlier Haley all were eliminated this episode.
Next week, the 11 remaining women head to Mexico with their "Bachelor"! They even get to participate in Fashion Week there! Jubilee starts to act erratic and Olivia makes an offensive comment about Amanda's children and it doesn't seem to go over very well with Ben!