NEW YORK -- This week, the bachelorettes headed to Mexico City to a swanky hotel with a stunning suite. Something tells me that it won't stay tranquil there for very long. "Amanda let's put all our eggs in one basket," the first date card read. Amanda, the single mother of two, was super excited to go on her first date in a really long time. It's time for her to see if it's worth the time away from her children to invest in getting to know Ben further.
The next morning, Ben snuck into their hotel room to look for Amanda at 4:30 in the morning. The women all hid under their covers as they had no makeup on their faces. Amanda magically woke up with lip gloss and makeup on. I think when you go on this show; you must go to bed with makeup on just in case! Ben said that they all looked better than ever, because he's the sweetest man ever.
As Ben waited for Amanda, Olivia and Lauren H. talked about how Amanda has kids and they both don't think that's what Ben wants. They expected her to get sent home.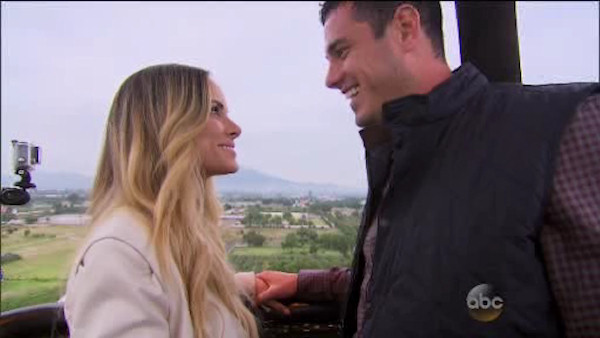 Ben and Amanda headed to an open field that was filled with hot air balloons! They took a special ride over an ancient city. Once they landed, she talked to Ben about how she doesn't have time to focus on herself because she has two little girls and her life is focused on them. Ben really seems to want to get to know her and the kids don't scare him.
The group date card arrived and it was for: Jubilee, Becca, Jojo, Caila, Emily, Lauren B., Jennifer, Leah, and Olivia. That meant that Lauren H. would get a one-on-one date!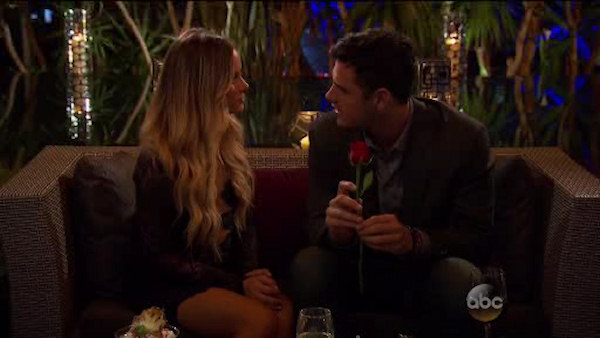 The longest one-on-one continued with Amanda where she wanted to talk more about her family and her past so that Ben could know all about her. She talked about her ex-husband and how he didn't want to do family things together and that once she was pregnant with her second daughter, she found a cell phone full of messages from old girlfriends and women on dating sites. Poor Amanda, she didn't want to breakup her family, but she couldn't stay with someone who treated her like that. Let's be clear, she didn't break up her family, that guy, her ex, he did. Ben really was a great listener and he understood that she really does want to find her soulmate. He told her that she was incredible and he said that he really appreciated that someone like her gave up her time to spend time with someone like him. Despite Olivia's prediction, Ben did give Amanda a rose!
On the group date, the ladies arrived at a Spanish class! Ben was telling the ladies that he loved them in Spanish, all in fun, but Jubilee did not take it that way. She told him that he said that to all the other girls and she basically wasn't having it. Olivia of course thought that they had sparks in front of everyone and she said her heart fluttered when he "asked her to marry him" for pretend.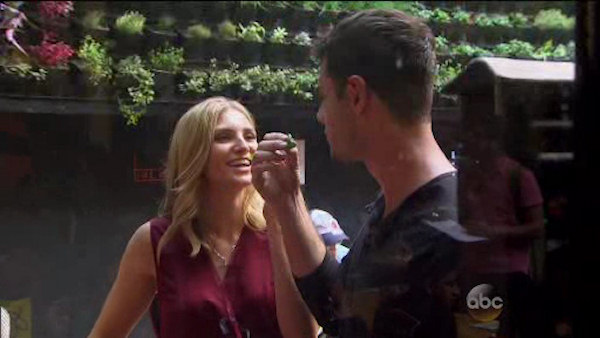 For the second part of the group date, they walked through town and went to a large market with a beautiful restaurant inside. The ladies got a bit of a cooking lesson from some professional chefs. They broke up into pairs and someone would get to partner with Ben! Well, a grudge match started between Jubilee and Olivia and Olivia won. They had to find their ingredients in the market and then compete against each other to make the best dish. Olivia treated their date like a one-on-one and they were having a great time. Apparently, she had some stinky breath and Ben suggested they go chew on some fresh mint. Aw, I do feel bad for her on this account. Now all of America knows she smelled not so great. Once they had their ingredients, they headed back up to the kitchen to start cooking! Even while they were cooking, Jubilee was being critical of Ben! She told him that his food was, "just OK". The chefs liked Lauren B. and Jubilee's recipe the best!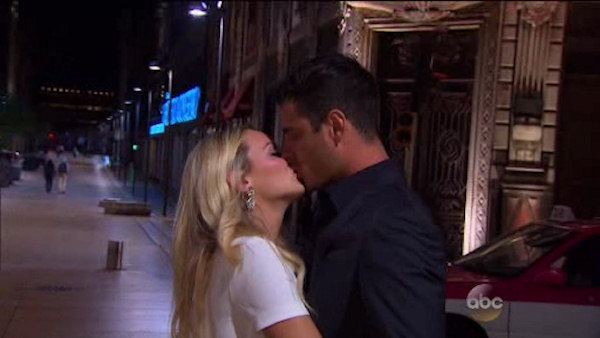 Later as the women shared cocktails with Ben, Olivia did her usual "grab Ben first" move. He thanked her for being a great partner to cook with and said that he knew it couldn't be easy around the other women and then he kissed her! He's still in her web! He seemed to have great conversations with all of the women as Jubilee sat there and stewed. Lauren B. and Ben had a great conversation about their last one-on-one date together and he said that he never wanted it to end. They walked around the streets and just couldn't keep their hands off each other. They were making out every chance they could get.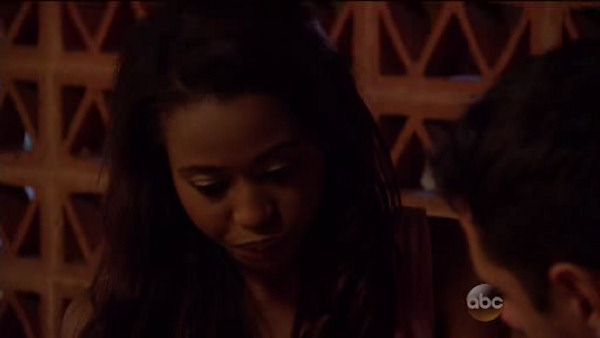 At last, he came to talk to Jubilee and she told him not to hold her hand! She then dumped all of her insecurities on him and he said he definitely remembers her and he feels like they had something. He said that he's not confident in it now because she's pulled back and even her pulling her hand away from him. He said he felt awful when she did that in front of everyone. Jubilee then begged Ben not to give up on her, and after a long pause he asked her if she still felt something between them. Ben then said that as incredible as the moments were with her, it would be "unfair" for him to say that there could be something between them. So, with that, he said goodbye to her and walked her out. You know, when everyone else is being as sweet as pie to the guy, and you're acting up like a brat, what do you expect? Still, let's hope she finds a guy who wants a fiery woman with a spark and won't be intimidated.
Ben took a moment to gather himself, and then returned back to the rest of the group. He told them that he sent Jubilee home and it was really tough. After finishing up his talks with the women, he held up the group date rose and extended it to Olivia! He said that they had reconnected again and he was happy that they had a great day overall.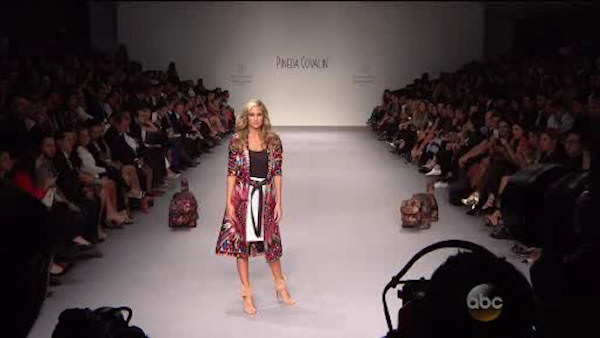 Lauren H. finally got to go on her big one-on-one date. Her date card had said, "Let's design a life together." They went to a design studio to try out some high fashion in Mexico City! How fun! It was a lot of silk designs and the studio was getting everything ready for Fashion Week. They surprised Lauren with the fact that she and Ben would be walking on the runway at the fashion show! She looked amazing out there! Ben did a great job too, although I totally liked Lauren's outfit better than Ben's shirt.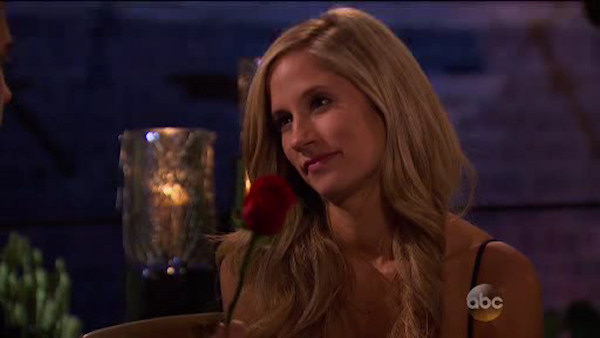 In the evening, they sat for some dinner and drinks where Lauren H. revealed that her ex-boyfriend cheated on her with some awful friend of hers. Ben thought that was terrible. He also said that he admired the work she does as a teacher. He found her to be honest, open and vulnerable and he said that he finds that "really attractive." He gave her the rose and she in her side interview said that she's falling in love with Ben!
It was time for the cocktail party before the rose ceremony and the ladies kept talking about how they couldn't believe that Olivia, who treats them like crap, keeps getting roses. Jojo told Ben that she loves hanging out with him and she asked him to keep her in the loop so she's not blindsided by something, and they kissed. Lauren B. meantime told Ben that she could see a real life outside of the show with Ben. Olivia then made a comment to Amanda about how she feels like she's watching an episode of "Teen Mom" watching her date Ben. That wasn't a very nice thing to say! Amanda was married and had her children in her 20's, she was hardly a teenager. The women were shocked and outraged. Olivia apologized for the comment and started to cry and said that she would "try harder from here on out."
Emily went off to find Ben and tattle tale on what Olivia said about Amanda. She knew it was a risky thing to say, but she couldn't let it go on anymore. I actually give her credit for saying something. I usually think their time is better focusing on their own relationship with the "Bachelor" but sometimes, something needs to be said.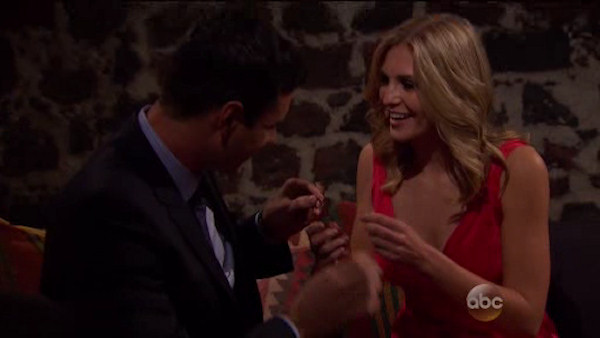 In perfect timing, Olivia tried to steal a moment with Ben. I think she'll regret stealing this one! Olivia sat down and gave Ben a ring that she picked up in town and he put it on his pinky. Ben started asking her about how things were in the house and Olivia said they were fine. So, Ben went and talked to Amanda and some of the other ladies about Olivia and what it is about her that the other ladies don't like. He trusts these women and he doesn't want to end up with a person that really isn't presenting their true self. Before he started the rose ceremony, he pulled Olivia aside to have a conversation. The show ended before we got to see the fallout. We'll have to wait until next week!