NEW YORK -- Past contestants returned to confront each other and "The Bachelor" on "The Women Tell All". Chris Harrison announced all the women to the audience, including the "chicken enthusiast" and her chicken. They started off by talking about their first night impressions of Ben. Then they moved onto talking about the controversial women of the season: Lace, Jubilee, Leah, and of course Olivia! Then they all started talking about Olivia as the chicken, Sheila, went flying around the stage. Leah tried to defend her comments about Lauren B. saying that she had said the girls who were upset about Ben were "losers". It was a bit unfair as Lauren wasn't there to defend herself. It didn't work though; the ladies all still thought she was a liar.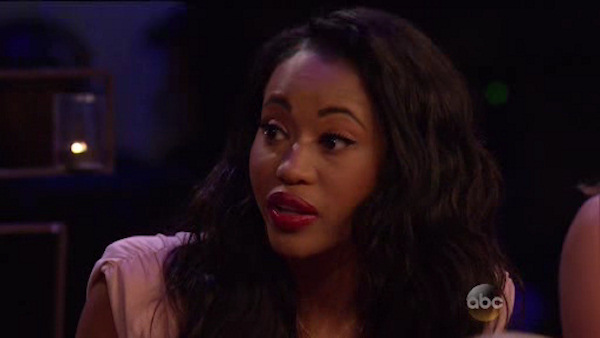 Chris Harrison moved the conversation to Jubilee who said that she tried to have productive conversations with the other women, and Amber started scoffing. She admitted she didn't talk with Amber when that whole situation came up. Jami and Amber took offense to the fact that Jubilee apparently said she would be the first "full" black woman to make it that far in the show. They thought it was a dig at them, and they didn't appreciate it. Jubilee tried to say that she didn't say it, but other women quickly jumped in and said that yes, she did actually say that. She refused to apologize at first and then she decided to save face and apologize to Jami and Amber. Jubilee then went down and sat in the "hot seat". As soon as she sat down she started with the water works. We had to rewatch Ben and Jubilee's whole uncomfortable relationship. Despite their breakup, she said that Ben was everything she hoped he would be.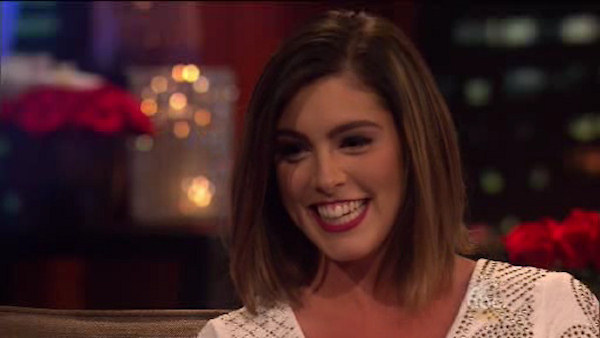 Next we moved onto Lace. Remember her? She was the one we thought would be the troublemaker/villain of the season before Olivia officially emerged. Lace talked about her personal growth and everything that led to her decision to go home. Some guy in the audience, a stalker I suppose, got a tattoo of Lace. Due to his tattoo they invited him to take off his shirt and take a picture with Lace. Chris Harrison again, took the opportunity to invite Lace to be on "Bachelor in Paradise" and this time, she actually accepted his invitation!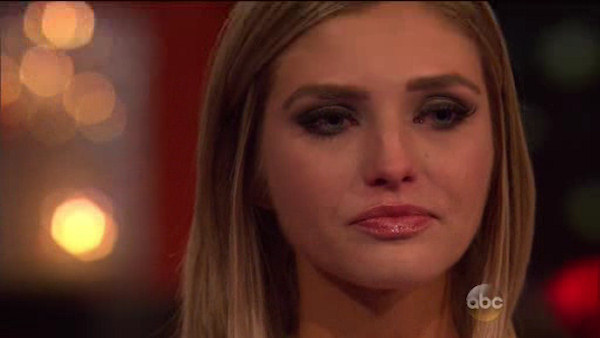 Then, finally we got to Olivia. At last someone that really stirred up some drama. Olivia said that she watched the first episode and it made her cry because that started on such a high and then it ended in such an awful way. She got emotional and teared up thinking about the good times that she had with Ben. She said that she had no idea watching how much the other women were talking about her. She said she owns up to the many things that she did wrong. Olivia said that she regrets saying the "Teen Mom" comment, and Amanda said that she said a lot of things and Olivia fired back that she also was talking behind her back at the same time. Amanda started talking about how being a mom is "her jam" as the chicken was sitting over her shoulder on the "chicken enthusiast's" hand. It was a little comical, although I do love Amanda and think her children are the absolute sweetest. She sparred back and forth with the twins about all the different times they went to her and told her she was acting ridiculous and offending everyone. To me, Olivia is full of herself and a definite pain, but I'm not quite sure she deserved all of the hatred she got. She talked about how she was severely bullied as a child and she said being in this situation brought back those feelings for her. She said it was uncalled for to pick on her breath, toes, ankles and appearance. Olivia admitted that she gave her sister her social media accounts for now, because it's too rough for her to be on there. She broke down in tears and through them said that the mouth stuff may be funny, but the other stuff is terrible. I don't know how she did it, but she came out on the other side of this interview being pretty likeable! She won the audience over, that's for sure.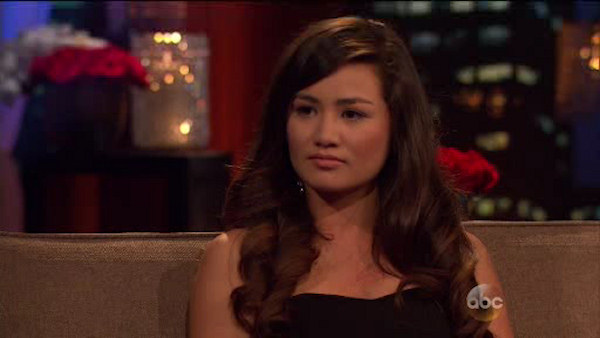 Beautiful third place contestant Caila sat in the hot seat next. She relived her breakup with Chris Harrison and talked about how a breakup was the last thing she was expecting the day she went to "surprise" Ben. Caila said that she was shocked that Ben told two women that he loved them and she was upset that she fell in love with him and he didn't feel the same.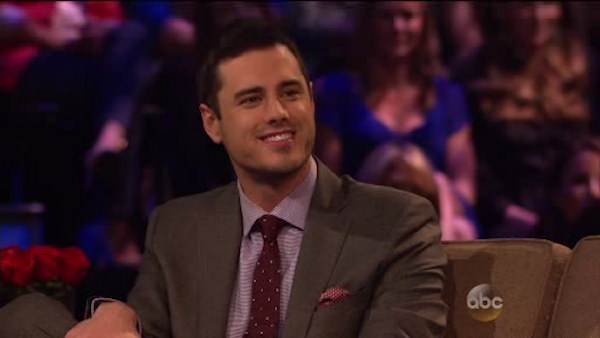 Ben Higgins came out on the stage to face the women in the final half hour of the show. Chris Harrison dug in right away and said, "So you realize you told two women you love them." He's gotten himself in quite a mess and we'll have to see how he gets himself out of it next week. Ben told Caila that their relationship meant a lot to him and he's thought a lot about it since then. Caila said that she liked that he was "genuine" and "himself", but she wanted to know if her confusion stopped their relationship from moving forward. He said the relationship didn't exactly stall, but it just didn't progress enough. Leah tried to get out of her lie again with Ben and he said that it affected another relationship so that's why he had to talk about it. Jubilee said that she felt like she and Jojo were both pulling away and why did he invest in Jojo and not her? Ben said that they didn't have as good of a start and he had already given her a second chance at that point.
Ben told Olivia that they had a great time, but it wasn't right and they had to end it. Amanda thanked him for caring about her and being emotional when he said goodbye to her. She wished him luck and said that she thinks he'll be an amazing father and husband someday. Becca thanked him for being a great guy. Ben said that he's "more in love" than he's ever been. He added that he would "marry that woman tomorrow" if he could. Chris Harrison said, "What if I hold you to that?"
In a preview of the finale, we saw Ben struggle with the fact that he loves two women. I think that Ben's parents are going to help guide him in his decision because they think it's unacceptable that he loves two women. Ben even admits to at least one of the women that he loves both of them. It's a big night next Monday! Three full hours of "The Bachelor" and "After the Final Rose"!