NEW YORK -- "Bachelor" Ben went on his fantasy suite dates in Jamaica this week. Ben said that he has strong feelings for the remaining three ladies Caila, Lauren, and Jojo. So, he's really relying on how the overnight dates go before making his decision on his final two. The whole beginning segment setting up this trip was a little odd! It showed the ladies drinking coffee and standing out on a pier, while Ben climbed some rocks in a pink shirt. I mean, let's stop wasting time and get to the dates!
Caila was up first for her fantasy date with Ben. He had a great time with her family, and Ben said that he has no doubts about Caila being a great wife. He said that he feels at this point like it's the deepest relationship out of the three. They took a rafting trip down the Martha Brae River. They had a guide in the front steering while they sat on a wooden seat on the back of the raft. While they were sitting on the raft, there seemed to be a lot of uncomfortable silence! What is going on?! Caila says that she feels anxiety that there are two other women falling in love with Ben too. This date was downright painful to watch! Ben was trying to get Caila to relax and not stress, but she just couldn't seem to chime in with anything to say.
Eventually they stopped on the trip to get some jerk chicken right there along the river. It looked delicious! They took that time to talk about their time in her hometown. Ben said he felt that she wasn't anxious in her hometown, but now she is. Caila said that she's overthinking "enjoying the moment". Ben told her to just communicate with him if she's feeling stressed.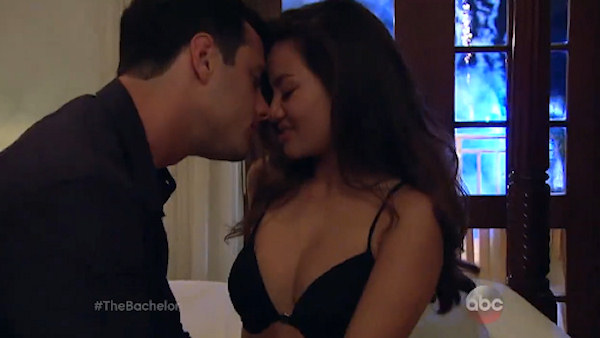 They met up later for dinner that evening and Ben hoped that it would be a lot more fun than earlier. Caila greeted him with some big kisses and he obviously loved that. They sat on the beach for a private dinner by a roaring fire and some tiki torches. Then she told him that she is having a hard time with the fact that there are still two other people there, but now she's looking to the future and it's starting to upset her and scare her. She took that opportunity to tell Ben that she is in love with him and Ben said nothing in return and just kissed her. Ben was really relieved to see the "old" Caila return and so he took out the fantasy suite card and she happily accepted his offer to stay with him. They did some nighttime swimming, watched the fireworks on the beach, and then returned to their swanky suite! They did some kissing, shut the door, and left the rest up to our imaginations. The next morning, they both seemed very happy and she told him that she loved him again that morning, but again, Ben said nothing.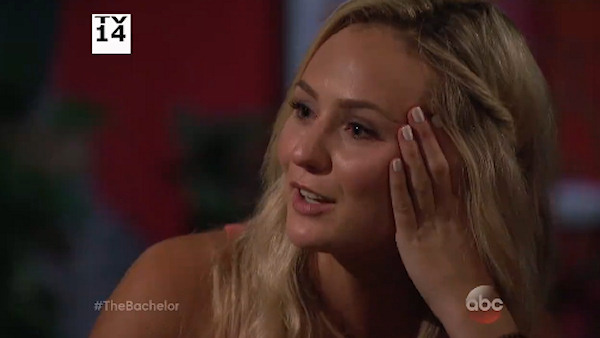 Ben moved on to his next date with Lauren. She was really excited to see Ben and planned to tell him that she loves him at some point during the day. They left on a little powerboat and pulled up on a beach where they met a man who told them that they were there to help release some baby sea turtles! They dug in the sand, pulled up some mesh and what do you know, there were lots and lots of baby turtles inside of the hole! They picked up the baby turtles and put them in buckets and then took them to the edge of the sand and released them! It was amazing seeing the little guys run towards the water and take their first swim. After the turtles were on their way, Ben told Lauren what a great time he had with her family and he admitted that he cried to her sister thinking about how amazing Lauren is, and even said, "You're too good for me." Lauren said that it's a great thing that he was saying those things because she has those exact same thoughts. They shared some passionate kisses in the water under a double rainbow.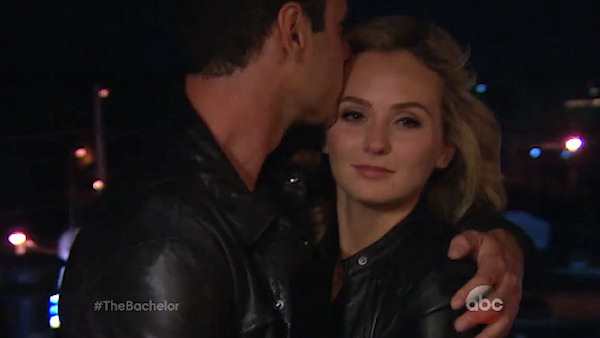 Later that night, they met at a reggae band concert where they did some dancing and then took a walk over to a private table to talk about their day and their relationship. Lauren admitted that this has been the hardest week so far because they were separated while he was away on his other hometown dates and it gave her a lot of time to think about their feelings. Lauren told him that she's very invested in him, she can see a life with him, but it's hard thinking of the other women. Ben told her that he didn't want her to hold anything in and he wanted to know if he'd done anything wrong. She told him that he's the "legitimately the man of my dreams." She still couldn't seem to drop the L-bomb though. Ben took out the fantasy suite card and offered it to Lauren who also decided to accept the offer. They headed into a gorgeous suite at "Sandals". They sat on the couch and had some champagne and Lauren finally blurted out that she loved him and has felt that way for a long time. Ben said that he knew that she doesn't just jump into things and he said that he actually knows that he's been in love with her "for a while as well". Lauren started to cry with happiness and they kept saying that they loved each other and Lauren was on cloud nine. The next morning they talked about how happy they were and he even said "I love you" again! He's dropped the word "love" several times!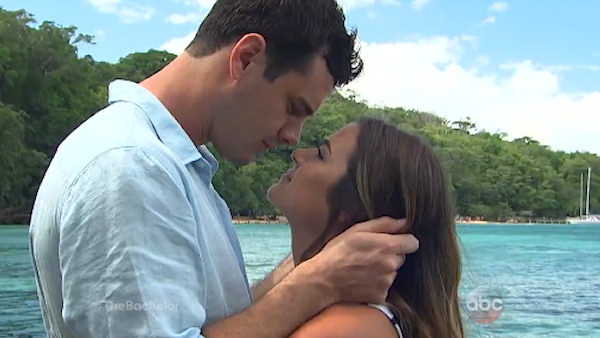 Lauren is a tough act to follow, but Jojo was going to do her very best! Ben said that if he isn't in love with Jojo by the end of the date, he plans to send her home because it would only be fair. Ben said that he has instant chemistry with Jojo the second he sees her. They boarded a helicopter and did some sightseeing and then eventually landed near YS Falls in Negril, Jamaica. It was absolutely breathtaking. They stripped down and went swimming in the amazing waterfalls. They jumped in from really high up and it felt like it was a bonding moment for them. They sat on the side and Jojo told Ben that it's hard for her to say "I love you" to him because she's so scared, but she does love him and she's "not just falling in love anymore" she actually loves him. Then Ben looked at Jojo and said, "Jojo, I love you too". They shared an amazing kiss and Jojo was super shocked that he said it back! It was the last thing she expected. Is it just me, or do they seem to have the chemistry, but not quite the same relationship on every level like he seems to with Lauren? There's one thing for certain, this seems to have spelled doom for Caila.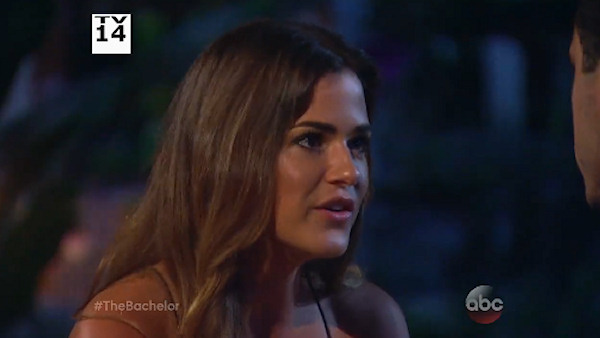 That evening, Ben and Jojo sat down for a dinner as Ben revealed (to us) that he's scared that he told two women that he loves them and it's a little confusing. But, this date is about Jojo and he's determined to focus on her. Jojo admitted to Ben that she's shocked he told her that he loves her, but he admitted to her that he's concerned about her family and them disliking him. She asked him what happened, and he said that the day was really weird and that they don't know him and he really doesn't know them. She hates that they didn't think he was genuine and she tried to tell him that her crazy brothers just want to protect her. Jojo also revealed to Ben that she would be devastated to lose him. He offered her the fantasy suite card and of course she accepted it. They checked out their amazing room with their private hot tub and took advantage of that right away. They sipped champagne and then later cozied up in the bedroom where they professed their love to each other again. They woke up the next morning, happy and still in love.
Ben said that he couldn't help but tell the other two women that he loved them and he didn't feel like that with Caila. So, he's planning on sending her home at the rose ceremony. But, Caila was super anxious and couldn't wait to see him again. She strutted on over to an SUV and went for a ride so she could go see the man that she's in love with. She ran over to where Ben was sitting, covered his eyes, laid a kiss on him, and opened his eyes and looked horrified. He was really caught off guard. He took her to sit down on some stairs for a serious talk. Caila knew right away that something was wrong. He said, "I know that I'm in love with two women here, and I just couldn't say it back to you." Ouch! He told her she was what he would describe as his perfect wife, and that he was falling for her, but he has to say goodbye to her. She told him that it sounded like a line. He told her that he was going to miss her, and she said that he didn't have to say that, and he tried to tell her that he meant it. She again said that she loved him, but she has no reason to stay so she'll just go. He walked her to her car and told her again that he's going to miss her and she told him that she really did love him. It was heartbreaking! She then all of a sudden hopped out of the SUV and asked him if he knew before their date. He told her that no one had shared feelings with him like she has and he left hometowns very conflicted about everything. He said that this week all three of them told him that they loved them. He told her he wouldn't have gone through the week with her if he knew what the outcome would have been. She told him that she would miss him and got back into the SUV after a really long hug. She got inside and started to cry, and it was really hard to watch. She was just devastated. Ben said that Caila is incredible and he hoped that he didn't make a mistake. He sat on the stairs and did some crying too.
Lastly, Ben prepared for an uneventful rose ceremony. Jojo and Lauren wondered where Caila was as Ben walked in. They were of course delighted she was gone. He had two roses and offered Lauren and Jojo those two roses. They had an awkward three-way hug and then he said "Cheers to you two". Jojo did a toast to "Falling in love and meeting your family," as she gazed at Ben with Lauren standing there. Lauren seem to realize that he loves both of them, but I don't think Jojo really does. This is going to be an explosive finale! But, before we can get to that, we need to get through "The Women Tell All" next week.