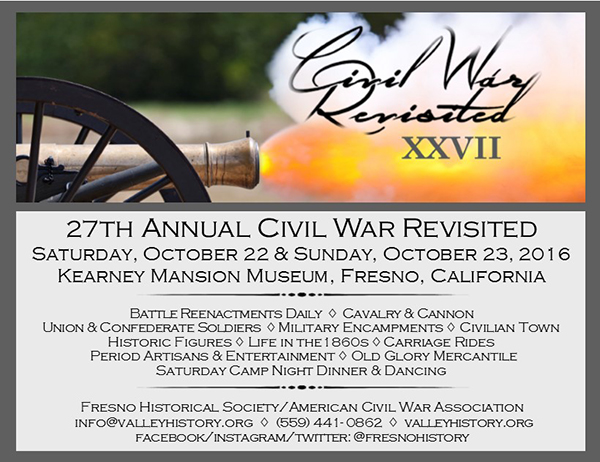 Take a step back in time with one of the biggest living history events in the Western United States.
The Fresno Historical Society and the American Civil War Association present: The 27th Annual Civil War Revisited. It's a fun event for the entire family.
Head to Kearney Park on October 22-23. Tickets are only $10.00 for adults and $5.00 for kids ages 6-12. 5 and under are free. You can also enjoy a special Soldiers' Dinner at Camp Night on Saturday. Mansion Veranda Dining is also available with luncheon and teatime seating.
Purchase tickets at
www.valleyhistory.org
Fresno Historical Society
(559) 441-0862
Mission
The Fresno Historical Society engages, informs, and educates the public through collecting, preserving, and interpreting the stories, images, and resources of the region's history to help understand our past and shape our future.
Founded in 1919, the Fresno Historical Society brings life to the heritage of our region by collecting, preserving, interpreting, and holding in public trust the records and artifacts that document the history of the people of Fresno County and the Central Valley of California; provides the community with quality educational opportunities through programs, exhibition, and use of its collections; and encourages and promotes the preservation and conservation of the community's historic and cultural resources.