May 2016 --

Español
|
Hmong
Español
|
Hmong
Español
|
Hmong
Graduation Day for Parent University
Nearly 1,000 parents participated in the Parent University Parent Recognition Ceremony on April 14 at Roosevelt High School, which also highlighted Parent University's fifth anniversary. Parent University and its community partners offer classes to empower parents to help educate their children by providing them with information about the resources and opportunities the district offers, and connecting them to the school community and resources in the community at large.
------
Parent Dates - May 2016
April 4-May 27
: Standardized testing window for elementary and middle school students
April 11-May 20
: Standardized testing window for high school students
May 10
: Fresno Unified Scholarship Banquet
May 11
: Board of Education meeting
May 23-June 8
: Graduations
May 25
: Board of Education meeting
------
2016 High School Graduation Schedule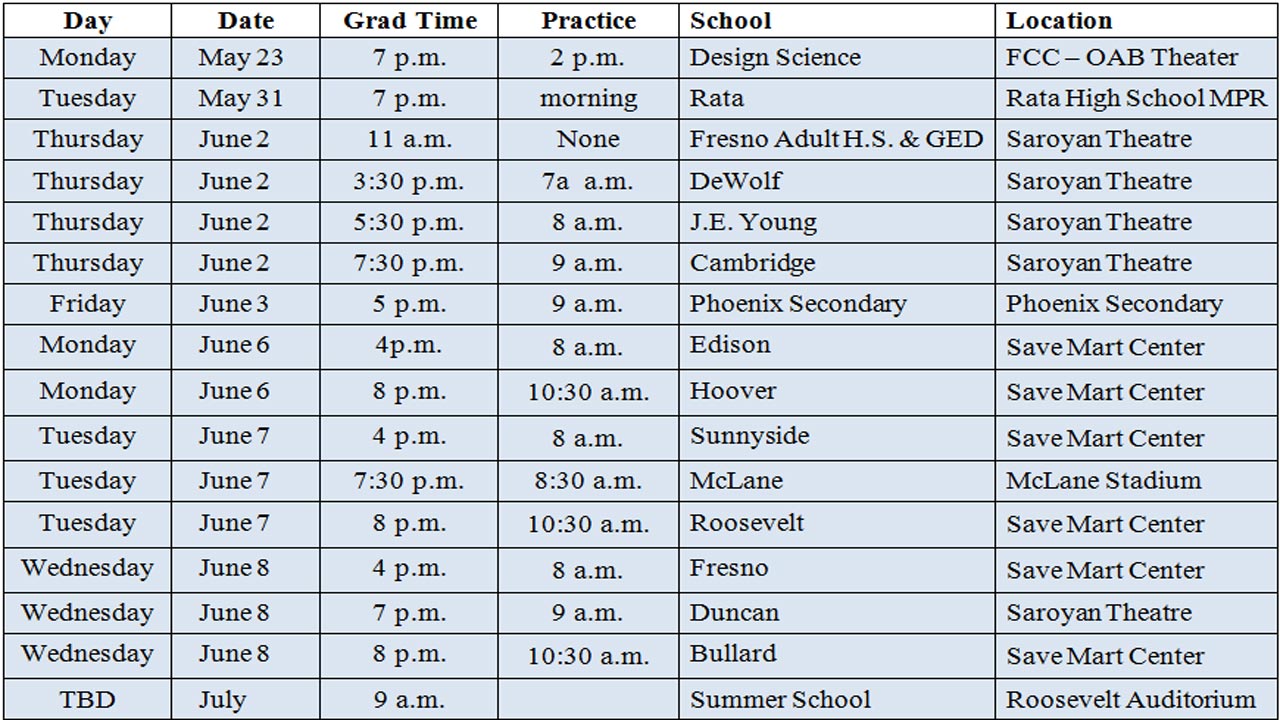 ------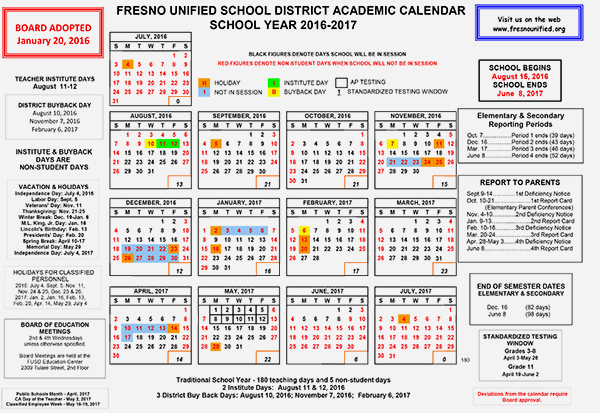 Download Calendar (PDF)
------
District Roundup
Roeding, Lawless Teachers are Educators of the Week
Julie Johnson, a sixth-grade teacher at Roeding Elementary School, and Karen Wong, a first grade teacher at Lawless Elementary School, were both recently named KSEE24's Educator of the Week. Each week, the station honors a teacher in the valley who goes above and beyond.
Edison, Computech Excel at History Day Competition
Following the Fresno County History Day competition March 12, Edison High School champions who will move on the state competition May 5-7 in Rocklin are: Historical Paper on the Explorations of John Muir, Gisell Vandrick; Historical Paper on the Encounters Leading to the Compromise of 1850, Catherine Jalomo; Group Website on the Exploration of the Civil Rights Act of 1964, Laura Larsen, Jake Hanson, Hannah Millhollen, Ryhan Arnett; Group Performance on the Encounters of Religious-based Hate, Rachel Mrkaich, Anthony Perez, Omar Ceja, Richard McCoy, Gisel Delacerda.
Other winners were: Third place Group Exhibit on the Exploration of Cloning, Dillion Lay, Sandra Rodriguez-Paredes, Johana Herrera and Maria Macias; third place Group Website on the Exploration of Women's Rights, Darielle Green, Sambria Morgan, Valerie Estrada and Summer Ghaleb; runner-up Group Documentary on the Jewish Curse (Encountering the Holocaust), Harneet Kaur, Mariana Olivo, Karen Tapia and Anyely Hernandez; runner-up Individual Exhibit: The Encounter that Launched the Gay Rights Movement, Mayahuel Garcia; runner-up Historical Paper on the Encounters of the Youth Counter Culture, Samira Abed; runner-up Individual Website on Womanism: An Exploration of Black Feminism, Katie Bordona.
Computech Middle School students advancing to the state competition are Group Performance on the Exploration of AIDS in the 1980s (Ryan White), Tyler Mrkaich, Austin Kern, Annie Cooper, Emma Pitcher.
Fresno Unified, AT&T Partner to Teach Students Valuable Lesson
Roosevelt High School students learned firsthand the dangers of distracted driving thanks to a simulator provided by AT&T on campus March 31. Students had the opportunity to take a test drive in the "It Can Wait" simulator, which aims to teach students about the dangers of sending or looking at texts, Tweets, posts or emails while driving.
According to AT&T, seven out of 10 people engage in smartphone activities while driving. Texting and emailing are still the most prevalent. But other smartphone activity use behind the wheel is now common. Among social platforms, Facebook is the most used, with more than a quarter of those polled using the app while driving. About one in seven say they're on Twitter behind the wheel
Wawona Will Host Multicultural Fair
Wawona Middle School will host an on-campus Multicultural Fair from 11 a.m.-3 p.m. Saturday, May 14 to bring the community together and promote cultural awareness. Various community members and organizations will be on hand to present information to attendees. The event will also feature bounce houses, food trucks, the mobile health truck, and cultural presentations.
Edison Debaters are Valley Champions
Edison High School seniors Samira Abed and Katie Bordona won a Valley title in Public Forum Debate at Stockdale High School March 4-5 and moved on to the California High School Speech Association's State Championships in April. They were joined by Edison's Kyle Tsutsui.
Entrepreneurship Students Meet with Clients
Students at the Phillip J. Patiño School of Entrepreneurship met with local business owners March 16 to provide updates on projects they have been working on for the companies. The students are working on online marketing plans and web development for the businesses, which include Rezcom, Build with Craig, Fresno Fit, Boxy Brands, Green Rose Productions/Visalia Opera Company, Simply Fab and the Fresno Fire Squad. The internships are offered through Shift3 Technologies, a Bitwise Industries company.
Roosevelt Captures Virtual Enterprise Awards
Roosevelt High School Virtual Enterprise team's Every Drop Counts won first place for Sustainable Business Plan and an award of $1,000 at the Virtual Enterprise International competition March 6. They competed against 50 other schools from California, Illinois, New York and Oregon. Roosevelt "Rang the Bell" for the team on March 14, celebrating academics. The team also received sixth place for WOW Factor for Best Booth Design and Salesmanship, eighth place for Logo Design, and an honorable mention for Video Commercial (out of 90 schools).
In January, they took first place for Business Card Design, third place for Best Professional Booth, and third place for Video Commercial, competing against more than 100 schools from all over the U.S. Virtual Enterprise teacher Linda Jean Voth said the school's team of 16 students that went to the competition was "the most professional and best behaved of any school."
Ahwahnee Middle School Hosts African American Multi-Cultural Celebration
Ahwahnee Middle School hosted an African American multi-cultural celebration March 11, featuring a free dinner for the first 350 guests and performances by MLK Dance Troupe, Purpose 2 Praise, Charlie Tubbs and Fellowship Youth Choir. Speakers were Freddie Black, a licensed marriage and family therapist and Roosevelt High School alum; Tate Hill Jr., Fresno Metropolitan Black Chamber of Commerce president/C.E.O; and Fresno City Council Member Oliver Baines III.
Hoover High Raises Money through Kids Day
Hoover High School raised $2,798.32 for Valley Children's Hospital during Kids Day newspaper sales March 8, surpassing last year's total of $2,200.00.
Vinland Student Groups Spotlighting the Positive
Students at Vinland Elementary School have created clubs to make the school better. The Giving Tree Group passes out positive notes, pictures and treats to adults at the school every week. The Finding Awesome Group highlights one person -- student or adult -- at the school each week. The honoree is interviewed about how they are making the school a better place and their story is read during announcements. Their photo and quotes hang on the cafeteria wall.
Phoenix Secondary Students Nominated for Film Awards
Phoenix Secondary Academy students have been nominated for awards during Fresno County Office of Education's "Picture the Valley Film Festival" April 13, 5-7 p.m. at Clovis Veteran's Memorial Auditorium. The students are Angel Munoz, Demitrious McMillian, Jacob Kalina and Eloy Sanchez-Carmago.
Norseman Elementary Deaf and Hard of Hearing Students Perform
Norseman Elementary School's deaf and hard of hearing students provided a special performance in sign language based on "Once Upon a Time," a story of the Three Little Pigs from the wolf's perspective. The annual play, in its 39th year, is a much anticipated event for students and parents alike. Norseman's deaf and hard of hearing department writes, produces, and directs the play.
Gaston Shows its Love for Reading Heart Founder
Gaston Middle School's Black Student Union gathered book donations to partner with 9-year-old Fresno Unified student and Reading Heart founder Danay Ferguson on her literacy campaign. Danay broke the world record for collecting books in a 24-hour period by gathering 280,110 books March 18-19 at Chukchansi Park.
Danay visited Gaston on March 18 to talk with students about her campaign. Students had the opportunity to sign the "Gaston Supports the Fight Against Illiteracy" banner. The students' help will also support the school's efforts to encourage all students to do well on the Degree of Reading Power test, which they will take after the spring break.
Edison Students focus on Addiction, Other Health Issues at Health Expo
Edison High School's Bio-Med Pathway for ninth and 10th grade students organized its second annual Health and Wellness Expo March 16. Tenth grade students' presentations focused on public service announcement campaigns promoting addiction awareness, while the ninth grade students' topics included physical fitness, nutrition, community resources, and disease prevention. The school partnered with HealthCorps, a national non-profit organization promoting health and well-being. Students used videos, pamphlets and posters to educate elementary and middle school students in the Edison region, as well as their peers at Edison, on the dangers of drugs.