FRESNO, Calif. (KFSN) -- It's arguably the most beautiful time of year in the Central Valley as millions of trees on thousands of farms begin to bloom. At the same time, the foothills turn green and wildflowers start peeking out in a colorful and fragrant display.
While the blossoms are just beginning, they will continue over the next few weeks; making it the perfect time to take a leisurely drive on the Fresno County Blossom Trail.
The Fresno County Office of Tourism has a website,
goblossomtrail.com
, has a map, list of events, and stops along the route.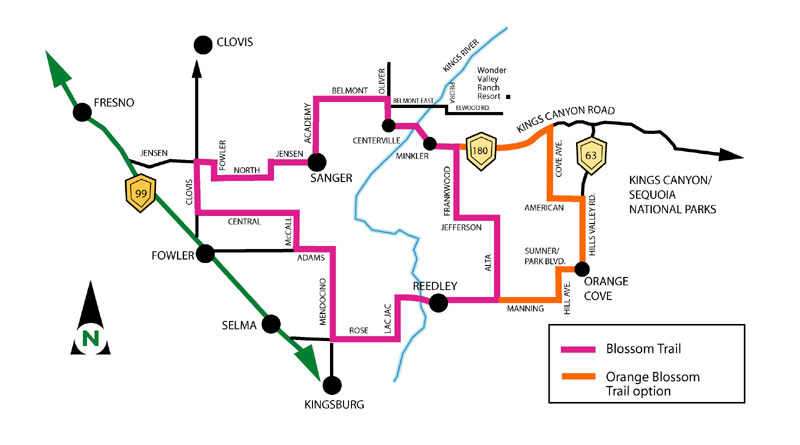 Download printable map
Stops along the Blossom Trail (Printable PDF)
According to their website, here's how to recognize the blossoms you see:
Almond Blossoms
have white petals. Two or more varieties may be planted in the same orchard for cross-pollination by bees.
Plum Blossoms
are white. At least two varieties will be planted in an orchard for cross-pollination. Over 200 varieties are grown commercially.
Apricot Blossoms
have pink petals. Fewer than 12 varieties are grown commercially.
Peach and Nectarine Blossoms
feature pink to red petals and bloom at the same time. Over 100 varieties are grown commercially.
Apple Blossoms
have white petals. Up to six varieties are grown commercially in Fresno County.
Citrus Blossoms
are white with a most aromatic fragrance. Navel and Valencia oranges, Mandarins, and lemons are the most common citrus grown locally. Mandarin trees are frequently covered with a fine mesh to prevent bees from pollinating the flowers, which would cause the fruit to form seeds.
Blossom Trail Events
3rd Annual Blossom Trail Bus Tours
(with wine tasting)
Saturday, February 24, & Sunday, February 25, 2018 - Sanger, CA
29th Annual Kings River Blossom Bike Ride
Saturday, March 3, 2018 - Reedley, CA
30th Annual Blossom Days Festival and Car Show
Saturday, March 3, 2018 - Sanger, CA
21st Annual Blossom Trail 10K Run
Saturday, March 3, 2018 - Sanger, CA
Blossom Trail Wine Weekend
Saturday & Sunday, March 3 & 4, 2018 - Sanger and Kingsburg, CA
Blossom Trail Train
Saturdays & Sundays, March 3 & 4, March 10 & 11, and March 17 & 18, 2018 - Reedley, CA
Orange Cove Blossom Festival
Saturday, April 7, 2018 - Orange Cove, CA
-------
More information at www.goblossomtrail.com