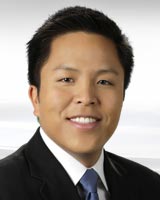 Tommy Tran joined the ABC 30 Action News team in March of 2010 as a reporter. In October of 2012, Tommy was promoted to Sports Director at KFSN.

Tommy is no stranger to California. He began his career at KGO-TV, the ABC-owned television station in San Francisco where he interned in the Sports Department for a year and then became a Production Assistant. It didn't take long before he moved to Yuma, AZ.

In the Desert Southwest, Tommy wore many hats and was an Arizona AP award winning producer and reporter before eventually becoming the NBC station's Anchor, Executive Producer, and Sports Director.

He's covered everything from drug and human smuggling stories along the US-Mexico border to high school state championships to skydiving with the Army's Golden Knights parachute team! But perhaps his most memorable moment came when he produced and co-hosted a six hour telethon for the local Food Bank. The station was able to raise $210,000 which Tommy is proud to say, was the most ever in one day for a non-profit organization in the area.

Tommy was born and raised in the Bay Area and graduated from San Jose State. (Sorry Bulldogs) He's excited to serve the residents of the Valley and call Fresno home.
---