FRESNO, Calif. (KFSN) --
Rep. David Valadao (R-Hanford) has fallen further behind in his quest to keep his seat in the House of Representatives, with Democrat challenger TJ Cox picking up more votes.
Today new vote counts were released in Fresno and Kings counties giving Cox a 529 vote margin over Valadao.
In Fresno County, new numbers were released around 2 pm on Wednesday, showing Cox gained an additional 23 votes.
The Kings County numbers were released around noon Wednesday, and while the votes in the area have strongly favored Valadao, Cox gained an additional 70 votes on Wednesday.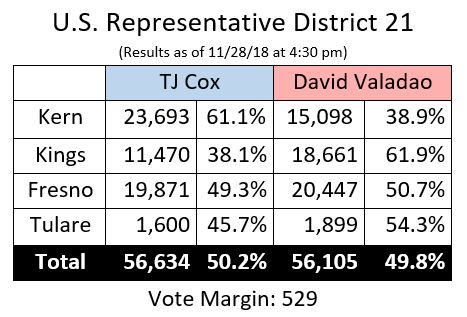 At around 1:30 pm on Wednesday, TJ Cox declared himself the winner in the race, thanking Rep. Valadao for his, "Six years of service to our country and the communities of the 21st District."
Action News has not yet declared a winner in this race.
Valadao, who was seeking his 4th term in Congress, has not yet made a statement on the results.
RELATED: Democrats sue Fresno County to see whose votes got rejected
Fresno County Elections officials say they have completed processing and counting all eligible ballots from the November midterm election. Officials are now doing a manual audit of the vote and expect to officially certify the election on December 3.
County elections officials have until December 7 to submit their final vote totals and certify the election.