ABC30 is a proud partner of the Clovis Rodeo, celebrating 101 years of American cowboy tradition on April 23 - 26.

There are plenty of opportunities for rodeo fans to show their cowboy spirit before and during the big event.
100 Years of the Clovis Rodeo TV special:
ABC30 presents an encore presentation of an hour-long documentary titled "100 Years of the Clovis Rodeo." You can watch the special on Sunday, April 19 at 3:00pm on ABC30.
If you're looking for more "hands-on" events, here's a list of other fun things to do.
Clovis Rodeo Events:
Watch cowboy and cowgirls compete at the Clovis Ranch Rodeo on Saturday, April 11. It will be a full day of team rodeo action on the rodeo grounds. Admission is free.

The Rodeo Queen Competition and banquet is Saturday night, Aril 18. ABC30 Action News reporter Sontaya Rose will serve as one of the interview judges for the queen competition.

The Clovis Art Guild Old West Art Show starts on Monday, April 20 and runs through April 26 at the Rex Phebus Veterans Memorial Buildingon Fourth Street & Hughes Street.

Grey's Anatomy star James Pickens Jr. will host the 6th Annual James Pickens Jr. Charity roping event on the Clovis Rodeo grounds, Tuesday, April 21. Watch top ropers compete for the top prize and it all benefits a good cause. The event begins at 10am and admission is free.




The Clovis Rodeo "officially" kicks-off with PBR Tour action on Thursday, April 23 starting at 6:30pm. ABC30 Anchor Margot Kim will sing the National Anthem. After the action, stick around for the country rock sound of Parmalee.

Friday, April 24, features more rodeo action starting at 5:30pm. Rising star Frankie Ballard will entertain rodeo fans with a little "Sunshine and Whiskey" after the action.

The Clovis Rodeo Parade kicks things off Saturday morning, April 25. The parade starts at 9:30am and runs for approximately 2 hours. The staging area for the parade runs from Railroad to Sunnyside Avenues and from Jefferson to Hoblitt Avenues. After the parade, Saturday's rodeo action gets underway. Don't miss the Clovis Rodeo Dance that evening.

Sunday is the final day of the rodeo. The day's events start with a special Breaking Barriers kids rodeo at 12 noon, followed by the more rodeo action at 2pm.

Saturday's Parade Route: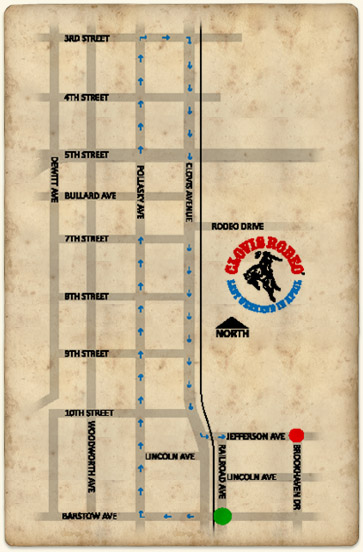 For more information about Clovis Rodeo events, please call
559-299-8838
or go to
Clovisrodeo.com.
For ticket information, please call
559-299-5203.