Good Monday Morning!
Hazy conditions continue across the valley. Grab those sweaters because temperatures will be off to a cool start. Around 7am temperatures will be in the 40s. Daytime highs will warm to upper 60s and low 70s. Winds remain light in the valley and will pick up slightly in the south valley to 5-10 mph. The San Joaquin Valley Air Pollution Control District has issued an Air Quality Alert because of hazy conditions across the valley from fires burning in California. The alert as of now is in effect until further notice. Air quality in Fresno and Kings Counties is Unhealthy for Sensitive Groups and Moderate in Merced, Madera, and Tulare Counties.
Cristina Davies will have your full forecast on ABC30 Action News.
Get the free AccuWeather app for iPhone
Get the free AccuWeather app for Android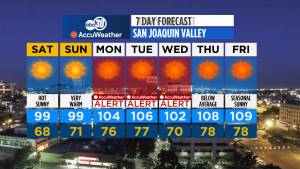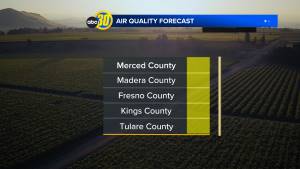 "